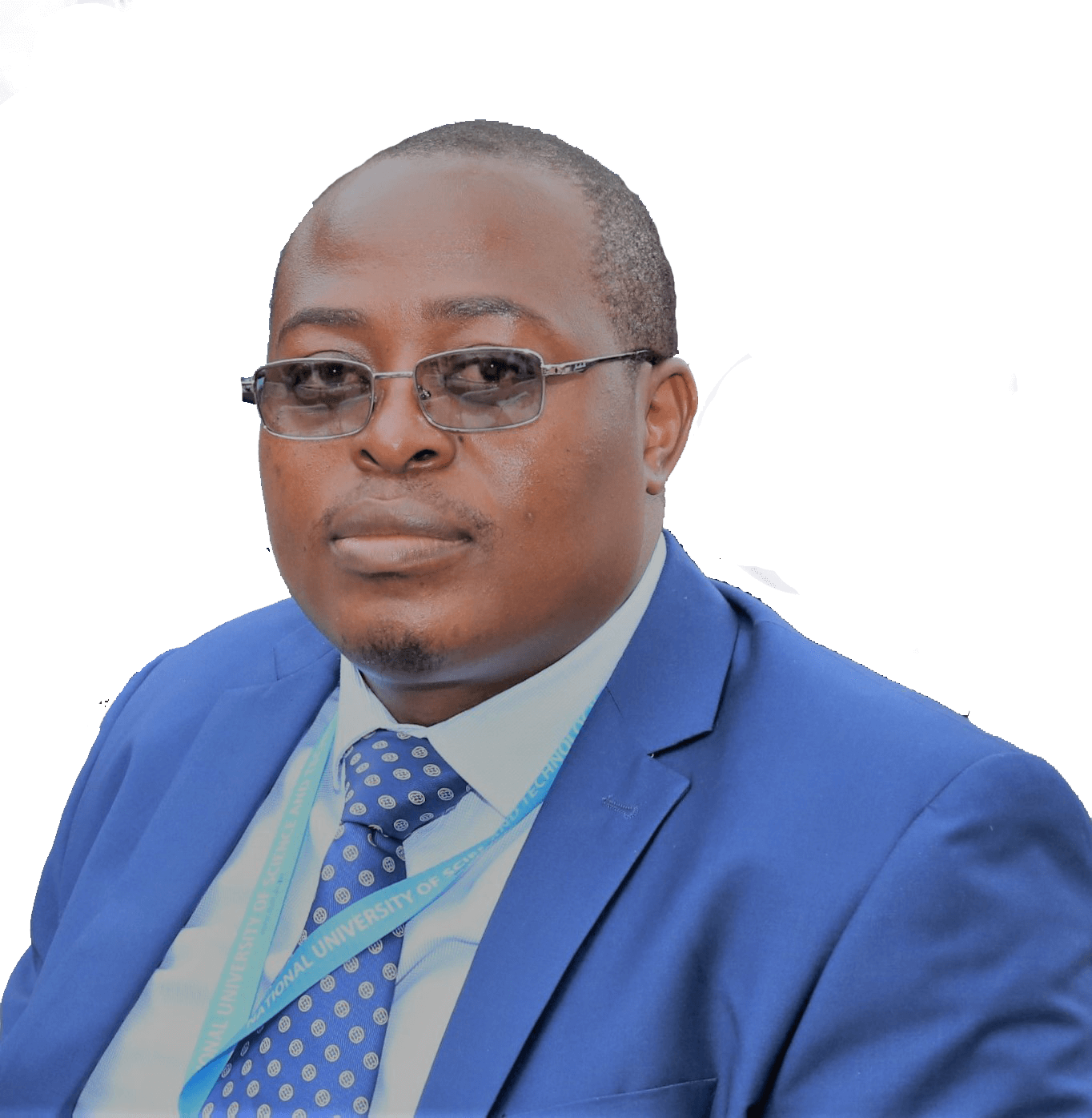 Eng. Blessed Mketo (Pr. Eng.) - Director
Physical Planning Works and Estates (PPWE)
The Department of Physical Planning, Works, & Estates (PPWE) is predominantly tasked with infrastructural development, maintenance of buildings, plant & estates and provision of transport for the institution's requirements as per the demand of each faculty and department.  It is currently constituted of three sections, namely Projects, Maintenance, and Transport sections, all headed by officer grades.  The department's major objectives amongst others are; the provision of sufficient teaching and learning spaces in an environment which is conducive, with adequate recreational facilities, and also ensuring adequate water and energy provision and an efficient transport system. 
The departmental establishment is still very small. It comprises the Director, Projects Officer, Maintenance Officer, Transport Officer, Clerk of Works, Maintenance Technicians, Drivers, and grounds staff.  It is currently undergoing restructuring in line with the Government model of Universities being the main contractors for their construction projects.  This will see the department having the requisite human resources to successfully implement capital projects.
 The NUST Campus is still under construction although a few buildings have now been occupied. This department is tasked with planning any future projects, managing current projects and the general estates. 
OBJECTIVES OF PPWE
To provide adequate academic and administrative facilities (lecture theatres, seminar rooms, academic and administrative staff offices, laboratories, workshops, recreational facilities, dining facilities, ablution facilities, etc.) through effective implementation of capital projects (new projects, ongoing & stalled projects completion)
To plan, maintain, evaluate and improve physical facilities and infrastructure such as teaching and learning facilities, laboratories, equipment and tools etc. to meet the needs of Education 5.0. through the maintenance department (new work, rehabilitations, renovations, upgrades, preventative and condition-based maintenance).
To plan, implement, evaluate and improve the environment, health and safety and access to people with special needs.
To provide an efficient transport system
To provide adequate water and sanitation facilities
To provide adequate alternative sources of energy
To ensure the institution's grounds are well maintained and ensure that the institutional ambience is pleasant
To ensure that the institutional facilities have effective signage
To ensure the institutional facilities are gender sensitive and friendly to people with disabilities.
The Department has four main areas of focus and responsibility:
Project Management
As a fairly new university, the Campus is still very much under construction. This is one of the most critical functions of the department. The functions here are project design, supervision and contract management. To date, under this function, the department has completed the university master plan, project briefs for all buildings and has handed over three completed buildings. Some buildings have had partial or beneficial occupation.
Maintenance
The department is responsible for the maintenance of all university buildings and infrastructure.  It comprises the building, electrical, plumbing, carpentry and plant fitting sections and employs electricians, plumbers, carpenters and other skilled personnel who are available full-time. Workshops have been set up for each trade, but the thrust is towards multi-skilling so that each maintenance technician has more than one skill.
Facilities Management
The department is also tasked with managing the available space in the university. As a campus that is still under construction, there is the perennial problem of space shortage, sharing of space, timetabling problems, demand for specialised space etc.
Estates and Grounds Maintenance
Our campus is approximately 160 ha in extent, most of it being virgin bush. The challenge for this section is to ensure that natural flora and fauna are preserved while introducing modern landscaping techniques. The objective is to create a pleasant studying environment with attractive gardens. While the landscaping is far from complete, we believe we are on the right track with our balance of indigenous trees and flowers.
Transport and Vehicle Maintenance
This section of the department is tasked with the acquisition and maintenance of the university fleet which comprises a wide range of vehicles – buses, trucks, tractors, saloons, pickups, coaches and motorbikes. Fuels and oils are ordered in bulk so as to run economically.  A Transport Officer runs the fleet with several drivers and a team of mechanics, auto-electricians and their assistants.
An Overview of NUST Infrastructure
NUST comprises multiple land and buildings dotted around the country.  Most structures are in Bulawayo, where the main campus is domiciled, which sits on 160 hectares, situated at the corner of Gwanda Road and Cecil Avenue.  There are several other properties located outside the NUST Campus, such as the Institute of Development Studies (IDS) in Suburbs, the Faculty of Medicine at Mpilo Hospital, the NUST Library on Hebert Chitepo in Bulawayo CBD, the NUST American Space at Chester House on Jason Moyo and the NUST Guest House in Kumalo suburb amongst others.  There are also residential properties for both student and staff accommodation in Bulawayo CBD  some of which include Rose Flats, Welo Court, Glebe Flats and Chester House.  In addition, there is the NUST Farm in Bulilima which sits on 958 hectares.
Plans are afoot to commence construction of the NUST College of Health Sciences on 35 hectares of land next to Mpilo Hospital.
Construction Projects
The department is currently working on the recently named Technovation Centre (formerly Campus Services Centre) with plans to complete all building works in November 2023.  Stone laying for this building was done by His Excellency, the President of the Republic of Zimbabwe, Hon. Dr. Cde. E. D. Mnangagwa on the occasion of the institution's 28th graduation ceremony held on the 11th of November 2022 at our Gwanda road main campus. 
Major projects earmarked for commencement in 2023 include the aforementioned School of Health Sciences at Mpilo, the ICT Resource Centre (formerly known as the Central Library) and Industrial Factory Shells 
There are smaller projects that will be commenced and completed within the 2023 financial year, such as the construction of Guard Houses, Central Plaza paving, Completion of Ceremonial Avenue, Covered Walkway and the University Boundary Wall.
The planning of the campus started as far back as 1990 with an international company of architects and planners who produced several volumes of briefs for all buildings and facilities. Prior to that, a local firm of architects had won an architectural competition to produce a master plan for the whole campus. The briefs were based on the master plan. Although produced more than ten years ago the master plan is still very relevant to the needs of the university although the briefs are amended from time to time.


The original construction period was supposed to run from 1993 to 2002. However, due to serious financial constraints, the Government of Zimbabwe could not avail the requisite finances and the building programme is way behind. In fact, as we stand only about 15% of the buildings have been occupied. The major challenge facing the departments is ensuring value for money in a very unstable economic environment where budgeting does not make sense. Budgets become outdated very quickly in a hyperinflationary environment. It is in this light that we appeal to donors and friends to come forward and assist us. Our aim is to produce a state of the art campus, the adequately provides space for a university of science and technology.


Good teaching and research can only be properly executed in appropriate space and laboratories. We are indeed proud that the few lecture halls and laboratories that have been done are of the highest standard and suitable for any researcher from anywhere in the world.
The development of the campus started in 1993. The first project was the servicing and infrastructure contract that saw the completion of most underground infrastructure (potable water, fire mains, irrigation water, high voltage infrastructure, drainage) and the roads network.


The first building was the Administration Block which started in 1993 and was finally handed over in November 1998 due to serious cash flow problems. The faculty of commerce was the second building when it started in 1994 and was finally completed in 1998.


Since then, the university has adopted a partial completion and handover strategy, where four projects are currently under this scheme. These are Applied Chemistry Building, Chemical Engineering Building, Student's Residences, Ceremonial Hall and the Central Stores and Maintenance Building.Limited student accommodation is now available in the form of self-catering
units that are being let out to students. the design of the residences is such that there are 16 different units making up one cluster and these can be completed in phases and occupied. to
date five units have been occupied.
The campus also boasts of an Olympic standard athletics sports stadium which can accommodate nine track and field disciplines.