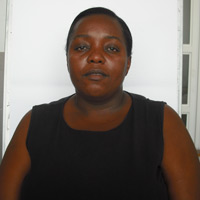 Mrs. Angella Chichinye
Lecturer - Forest Resources & Wildlife Management
Total: 0 Lesson(s)
Website: http://www.nust.ac.zw
Office: SW 133
Extension: 2469
Email: angela.gumbi@nust.ac.zw
Qualifications
MSc. Tropical Resource Ecology, University of Zimbabwe; Post Graduate Diploma in Higher Education, NUST; BSc. Forest Resources and Wildlife Management, NUST
Current Studies: PhD in Forest Science, University of Pretoria, South Africa
Research
Recovery of disturbed forest ecosystems; Climate change/variability impacts on forest ecosystems; Land cover changes as a result of disturbances.
Publications by Mrs. Angella Chichinye
Kupika O.L, Kativu S,Gandiwa E and Gumbi A (2014). Impact of African Elephants on baobab (Adonsonia digitata L) population structure in northern Gonarezhou National Park, Zimbabwe. Tropical Ecology.
Angella Gumbi, Qhondani-enkosini Sibanda, Margaret Macherera, Lindani Moyo and Olga Laiza Kupika (2014). Assessment of woody vegetation cover changes in Bulawayo over the period 1990-2010. Arboricultural Journal. The International Journal of Urban Forestry..
Margaret Macherera, Lindani Moyo, Mkhanyiseli Ncube and Angella Gumbi (2012). Social, cultural and environmental challenges faced by children on Antiretrovial therapy in Zimbabwe. A mixed method study. Int J MCH AIDS.
Matangi Dorcas, Gumbi Angella, Nzuma Tendai and Ndagurwa G.T (2011). Non-deliberate organic input in relation to landuse in a semi arid AGRO ecosystem in northen Zimbabwe. Tropical and Subtropical Agro ecosystems.
Workshops & Conferences
Oral presentation at CIFOR Headquaters (2012), Bogor Indonesia. Title: Impact of agricultural expansion on forest cover in Zimbabwe. Authors Angella Gumbi.