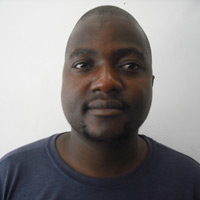 Mr. Ngonidzashe Mangoma
Lecturer - Applied Biology & Biochemistry
Total: 0 Lesson(s)
Website: http://www.nust.ac.zw
Office: SW160
Email: ngonidzashe.mangoma@nust.ac.zw
Qualifications
MSc Applied Microbiology and Biotechnology (NUST), BSc (Hons) Applied Biology and Biochemistry (NUST)
Research
Plant biotechnology - metabolic engineering of plants; Environmental Biotechnology (i) Biological treatment of industrial effluents (ii) Bioconversion of waste to energy (biogas).
Publications by Mr. Ngonidzashe Mangoma
Joshua Mbanga, Ngonidzashe Mangoma, Bamusi Saidi. 2010. An Evaluation of the Antimicrobial Activities of Aloe barbadensis, A. chabaudii and A. arborescens Leaf Extracts Used in Folklore Veterinary Medicine in Zimbabwe.
Ngonidzashe Mangoma and Zephaniah Dhlamini. 2014. Use of the polymerase chain reaction-restriction fragment length polymorphism (PCR-RFLP) technique to analyse the Anthocyanidin Synthase (ANS) gene Locus in Zimbabwean sorghum landraces with different seed proanthocyanidin profiles.
T. Mtasa, N. Mangoma, Z. Dhlamini. 2014. Sensitivity of some pathogen isolates to fungicides commonly used in vegetable greenhouses in Zimbabwe.