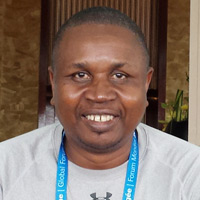 Mr. Daga Makaza
Lecturer - Sports Science & Coaching
Total: 0 Lesson(s)
Website: http://www.nust.ac.zw
Office: AG40
Extension: 2487
Email: daga.makaza@nust.ac.zw; dmakaza@gmail.com
Qualifications
MPhil in Sports Science and Coaching, NUST, Zim; Bachelor in Education Biology, UZ, Zim; BSc Physical Education and Sport, ZOU, Zim; ISAK 3
Current Studies: PhD, University of KwaZulu Natal
Research
Kinanthropomentry; ICT Pedagogy; Children Nutrition; Physical Activity
Publications by Mr. Daga Makaza
M.P.D Gundani, D. Makaza, L. O. Amusa, S.C. Mugandani, M. Kanji & E. M. Tapera. Mngqwayi: A stick throwing game of the Kalanga people of Zimbabwe. African Journal for Physical, Health Education, Recreation and Dance. Volume 14 No  Dec 2008 Available : http://www.ajol.info
M.P.D Gundani, D. Makaza, L. O. Amusa,. E. M. TaperaMugandani&. M. Banda. Nyunga : A Clay Figurine Game of the Kalanga People of Zimbabwe. African Journal for Physical, Health Education, Recreation and Dance. Volume 16 No3 September 2010 Available : http://www.ajol.info
Chitanana, L., Makaza, D., &Madzima, K. (2008, July The current state of e-learning at universities in Zimbabwe: Opportunities and challenges. International Journal of Education and Development using ICT [Online], 4(2). Available: http://ijedict.dec.uwi.edu/viewarticle.php?id=450
DagaMakaza,Lateef O. Amusa, Daniel T. Goon, Morgan P. Gundani, Sam. C. Mugandani .Body Composition and Somatotype of Male Zimbabwean League Basketball Players. African Journal for Physical, Health Education, Recreation and Dance (AJPHERD)Vol. 17, No. 1 (March) 2011, pp. 81-95. Available : http://www.ajol.info
Amusa, L.O., Makaza, D., Goon, D.T., McCallum, A. &Ndaba, L.K. (2011). Integrating Information and Communication Technologies (ICT) to enhance Problem Based Learning. African Journal for Physical, Health Education, Recreation and Dance, September (Supplement 2:2): 138-147.
DagaMakaza, Lateef O. Amusa, Daniel T. Goon, Morgan P. Gundani, Sam. C. Mugandani.  Physical and Physiological Performance Characteristics of Male League Zimbabwean Basketball Players. Medicinadello Sport 2012 June;65(2):199-210. Available: http://www.minervamedica.it/en/search.php
DagaMakaza, EberhardTapera, Morgan P Gundani, Daniel Goon, L.O. Amusa,. Body Composition and Somatotype of Male Zimbabwean Junior Soccer Players. Medicinadello Sport 2012 March;65(1):63-74. Available: http://www.minervamedica.it/en/journals/medicina-dello-sport/article.php?cod=R26Y2012N01A0063
Makaza, P. Makoni, E.M. Tapera, L. Charumbira, M.P.D. Gundani, B. Khumalo.Knowledge, Attitudes and Practices Survey:  Olympism in Zimbabwe. Report to the Zimbabwe Olympic Committee. July 2012 (Principal Investigator)
Magdalena Mo Ching Mok, Ming Kai Chin, Shihui Chen, Arunas Emeljanovas, Brigita Mieziene, Michal Bronikowski, Ida Laudanska-Krzeminska, Ivana Milanovic, Milan Pasic, Govindasamy Balasekaran, Kia Wang Phua, and Daga Makaza PJournal of applied measurement 16(4):379 (2015) PMID 26771567 .Psychometric Properties of the Attitudes toward Physical Activity Scale: A Rasch Analysis Based on Data From Five Locations.