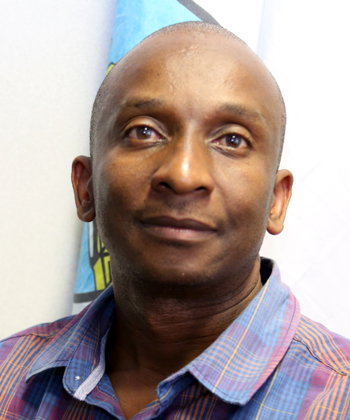 Dr Thambo Nyathi
Chairperson, Lecturer
Experience: 20 Years
Total: 0 Lesson(s)
Email: thambo.nyathi@nust.ac.zw
Website: www.nust.ac.zw
Qualifications:
PhD Computer Science (UKZN), Msc Computer Science (NUST), Beng Electronic & Information Eng, Aberdeen, UK
Research Interests : Artificial Intelligence 
Publications by Mr. Thambo Nyathi 
Moyo S., Nyathi T., Nyathi K. T, Ndlovu S. "Optimisation of the Linear Probability Model for Credit Risk Management", International Journal of Computer and Information Technology (ISSN: 2279 -0764) Volume 03 – issue 06, November 2014
Ngwenya S., Nyathi T., Moyo S. "HIV/AIDS Herbal Treatment Expert System", University of Pretoria, South Africa. 1-4 August 2011
Nyathi, Thambo; Ndlovu, Siqabukile, Beacon Frame Manipulation to Mitigate Rogue Access Points: Case of Android Smartphone Rogue Access Points, Compusoft; Nagda3.2 (Feb 2014): 576-581.
J. Mulopa, S. Ndlovu, K. Mzelikahle, T. Nyathi (2015). Using Fuzzy ARTMAP for Symmetric Key Generation. American Journal of Information Science and Computer Engineering 1 (2), 76 - 83
Worshops & Conferences
Sibanda, K, Nyathi, T, Dube, S & Sihwa, S. QR Code Based Patient Medical Health Records Transmission: Zimbabwean Case, InSITE 2015 conference proceedings.
Nyathi, T, Dube, S,  Sibanda, K & Mutunhu, B. Poultry contractual farming decision support system, IST-AFRICA 2013 conference proceedings.
Nyathi, T & Dube, S. e-Diabetic Dietary System for the Rural Community, 5th ICAT 2012 conference proceedings.
Nyathi T., Moyo S. and Musundire D. "Indigenous Name Flora Identification System (INFIS)", Indigenous Knowledge Systems (IKS) International Conference, NUST, Zimbabwe. 28-31 August 2012
Musundire, D., Chilumani, K.R., and Nyathi, T., Biometric Implementation of Bayesian Networks for Face Recognition on Android Mobile Devices, International Conference on ICT for Africa 2013, February 20 -23, Harare, Zimbabwe
S.M Nleya, T.V. Nyathi, C.Majuta and K. Madzima, Mobile Cellular Phone Based Tsoro, International Conference on ICT for Africa 2013, February 20 -23, Harare, Zimbabwe
Professional Memberships
Evolutionary Algorithms, Application of EAs to data classification