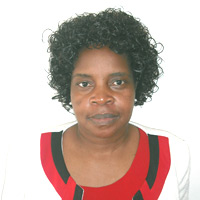 Dr. Norah Basopo
Lecturer - Applied Biology & Biochemistry
Total: 0 Lesson(s)
Website: http://www.nust.ac.zw
Office: SW161
Extension: 2457
Email: norah.basopo@nust.ac.zw

Qualifications
PhD (NUST), M Appl Sc Toxicol(RMIT), GradDipToxicol (RMIT), BSc (UZ)
Research
Evaluating the levels and effects of environmental pollutants in aquatic and terrestrial environments. Use biomarkers to detect presence and effects of anthropogenic pollutants such as pesticides, metals, industrial effluent on terrestrial and aquatic biota.
Publications by Dr. Norah Basopo
Basopo, N. and Naik YS. (2012) Inhibition of esterases of the freshwater snails Helisoma duryi and Lymnaea natalensis by mixtures of pesticides. International Journal of Environmental Protection, 292): 27-30.
Basopo N,  Mumbamarwo L, Mkandla D and Naik YS. (2014) Pollutant mixtures as stressors of selected enzyme activities of the aquatic snail Helisoma duryi. Journal of Environmental Chemistry and Ecotoxicology 6(4): 27-37.
M Ndabambi, N Basopo, LC Nkiwane & YS Naik (2015) The molluscicidal efficacy of methanol extracts of Pterocarpus angolensis, Sclerocarya birrea, Pappea capensis and Commiphora africana against Lymnaea natalensis and Helisoma duryi, African Journal of Aquatic Science, 40:107-108, DOI: 10.2989/16085914.2015.1024605
Basopo N and Naik YS. (2015) Toxicological effects of technical grade and formulated pesticides on esterase activity in freshwater snails H. duryi and L. natalensis. Annals of Biological Research,  6 (12):37-42. ISSN 0976-1233
Basopo N and Ngabaza T. (2015) Toxicological effects of chlopyrifos and lead on the aquatic snail Helisoma duryi. Advances in Biological Chemistry, 5: 225-233.
Majaya R.D., Tapfuma, D .,Mnkandla, S., Basopo, N. (2016). Toxicological Effects of Differently Polluted Dam Waters Spiked with Pesticides on Freshwater Snails Lymnaea natalensis. International Journal of Chemistry 8 (3); 1-8.  DOI:10.5539/ijc.v8n3p1. ISSN 1916-9698