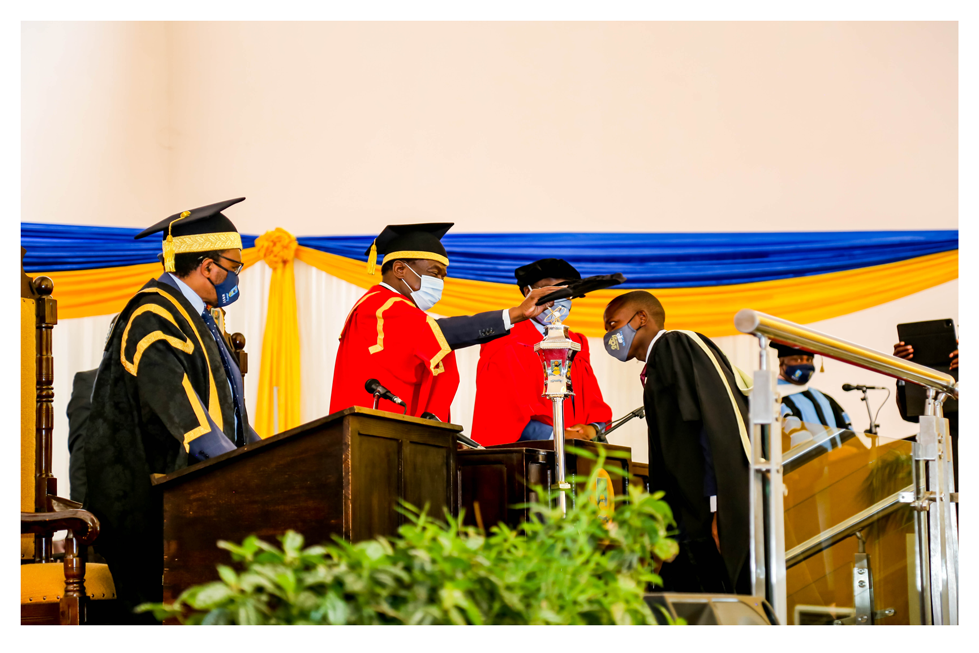 Your Excellency, the Chancellor of the National University of Science and Technology, and, President of the Republic of Zimbabwe, Comrade Dr. Emmerson Dambudzo Mnangagwa
Honourable Minister of State for Bulawayo Metropolitan Province, Cde Judith Ncube
Honourable Minister of Higher and Tertiary Education, Innovation, Science and Technology Development, Professor, dr. Amon Murwira
Ministers of Government here present
The Ambassador of the Republic of South Sudan, Ambassador Gabrial Gai Riak
Chief Secretary to the President and Cabinet, Dr Misheck Sibanda, here represented by the Deputy Chief Secretary to the President and Cabinet, Rev Paul Damasane
Deputy Minister of Higher and Tertiary Education, Innovation, Science and Technology Development, Cde. Raymore Machingura
Deputy Ministers of Government here Present
Chairman of the Public Service Commission, Dr. Vincent Hungwe
Permanent Secretary in the Ministry of Higher and Tertiary Education, Innovation, Science and Technology Development, Professor Fanuel Tagwira
Chairman of NUST Council, Eng. Alvord Mabena
Vice-Chancellors, and Principals of Institutions of Higher and Tertiary Education
Senior Government Officials here present
Distinguished guests,
Parents and guardians,
Graduands of the 2021 class,
Ladies and Gentleman! 
IT is always a great pleasure, Your Excellency and Chancellor, to have you here to officiate during this important ceremony in the career journey of our students. My sincere appreciation also goes to our Minister of Higher and Tertiary Education, Innovation, Science and Technology Education and his Ministry team for the continued support and guidance. Allow me your Excellency and Chancellor, to acknowledge our academics and support staff for a job well done. To parents and guardians, your investment in the education of your children has not been in vein. We salute you for all the sacrifices. 
Your Excellency and Chancellor, we are presenting to you 3 290 undergraduates and postgraduate graduands. This is a 30% increase from last year. Of these graduates 46% are female and 54% are male. However, due to Covid-19 restrictions, we are physically capping 326 graduands with First Class, Distinctions, recipients of various book prizes, nine (8) Doctor of Philosophy and three (3) Master of Philosophy graduands. A total of 244 are graduating with First Classes and Distinctions. Among those receiving prizes are two graduands from the Faculty of Engineering and Faculty of Communication and Information Science who are receiving the distinguished prize: The Emmerson Dambudzo Mnangagwa Chancellor's Award and USD$1,000 each. On behalf of NUST Council, Senate, students and Alumni Association, I would like to extend our sincere gratitude for this kind gesture for the second year running from our Number One Alumnus, His Excellency and Chancellor, Dr E.D Mnangagwa. 
Your Excellency and Chancellor, we are also witnessing five programmes graduating for the first time. These are Bachelor of Science Honours Degree in Earth Sciences; Bachelor of Technology Honours Degree in Electronic Engineering in collaboration with TelOne; Bachelor of Engineering Honours Degree in Mining Engineering in collaboration with Gwanda State University; Bachelor of Engineering Honours Degree in Geomatics and Surveying in collaboration with Gwanda State University; and a Master of Engineering Degree in Environmental Processing Engineering. Our warm congratulations to the pioneers of the five programmes. 
Distinguished guests, NUST remains committed to addressing the critical skills shortage in science, technology, engineering and mathematics (STEM) disciplines as it implements the Heritage-based Education 5.0, which is pivotal in the drive towards the nation's Vision 2030. This is demonstrated by the fact that 59% of our graduands are in STEM disciplines. Also, our current enrolment at undergraduate level comprises of 61% students in STEM disciplines while the menu of our degree programmes is made up of 77% STEM programmes at undergraduate level and 63% STEM at postgraduate level. 
As a University, we are excited that our students and their supervisors are responding very well to the demands of the Heritage-based Education 5.0, which challenges us to RETHINK, REFOCUS and REDESIGN our role and contribution in the journey towards an Empowered and Prosperous Upper Middle-Income Society as outlined in Zimbabwe's Vision 2030. Today, we are graduating innovative, tech-savvy and entrepreneurial graduands who are ready to drive the country's innovation and industrialisation. For example, among these graduands, Your Excellency and Chancellor, is 23-year-old Tafadzwa Banga, who was selected into the Top 10 young African innovators by Space in Africa. The young innovator, who is graduating with a Bachelor of Science Honours Degree in Industrial and Manufacturing Engineering, is the Space Generation Advisory Council (SGAC) National Point of Contact (NPoC) for Zimbabwe. He launched a student-designed electronic payload in near space using a high-altitude balloon, the first-ever space-related project for Zimbabwe. 
Two weeks ago, our final year student in the Industrial and Manufacturing Department, Allen Chafa outshined engineering students from the country's universities, polytechnics and colleges in the annual Zimbabwe Institute of Engineers awards. During the competition, students showcased projects with particular emphasis on value addition, Sustainable Development Goals (SDGs) and Vision 2030. Chafa's project, which address water challenges, came out tops. We celebrate the achievements of our students. To us NUST, the future of the nation is in the YOUTH, our STUDENTS, our GRADUANDS before us. 
Let me take this opportunity to express our gratitude to his Excellency, President of the Republic of Zimbabwe, Dr E.D Mnangagwa for conferring our Applied Genetics Testing Centre (AGTC) with the Medal of Meritorious Service Commendation Award and for awarding the University the Jairos Jiri Humanitarian Award for its outstanding work in the practicalisation of Heritage-based Education 5.0 in the fight against Covid-19 pandemic. The AGTC Centre is currently working on the identification of over 150 Cyclone Idai Zimbabwean Victims who were buried unidentified in Mozambique. AGTC is also leading a research in the development of capacity to produce Covid-19 and other pathogens, testing reagents, a major breakthrough in the fight against the pandemic and handling of other diseases like HIV/AIDS. We are grateful to the Government, which through our Ministry has facilitated the acquiring of a DNA synthesizer machine. We look forward to starting the manufacturing of the Covid-19 testing kits before the year ends and this will go a long way in reducing the high cost of PCR testing to members of the public, while helping the Government to cut on its import bill. Besides Covid-19, the local production of PCR test kits will help the country to handle some diseases like HIV. A PCR test can also be used to detect viral load and can be used in animals to ascertain various diseases and viruses. 
Your Excellency and Chancellor, in 2018, the University enrolled 35 students from the Republic of South Sudan on a government-to-government scholarship programme. The majority of the students (37%) were studying Applied Science, 31% Commerce, 14% Engineering, 11% Medicine and 3% each were enrolled in The Built Environment and Communication and Information Science. We are pleased to report that the last group of the South Sudanese students are graduating today. May the South Sudan students please stand up. CONGRATULATIONS! You may take your seats. 
Ladies and Gentlemen, a graduation is such a special occasion; it is the culmination of years of hard work and sacrifices; the actualisation of goals attained and the acknowledgement of successes achieved and dreams fulfilled. To the Graduands, their parents and guardians, it all started with our coming together, keeping together and working together, in spite of all the obstacles that we faced along the way. The end result is the Graduating Class of 2021. Go out to the world and always lead by example. It has been an honour and a privilege to play a significant part in shaping your careers. Always remember to THINK IN OTHER TERMS!
 AMHLOPHE! MAKOROKOTO! TWAKABOMBA! RINITAMELA MASHUDU! MATJENA! CONGRATULATIONS!