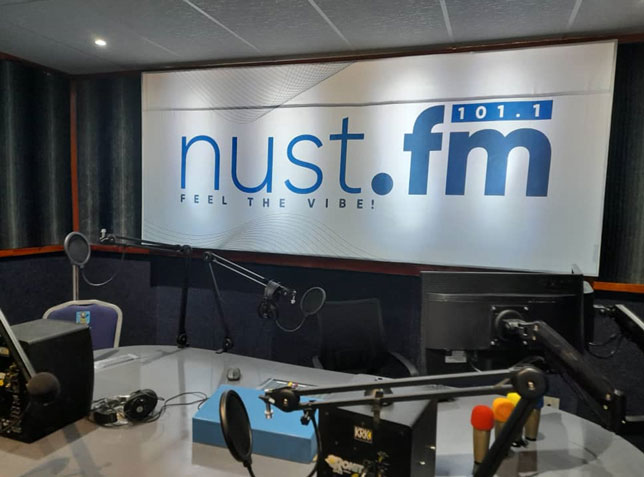 THE National University of Science and Technology (NUST) campus radio has gone on air with its first live broadcasting coinciding with the institution's 28th graduation ceremony last Friday.
Broadcasting under the frequency NUST FM 101.1, the station is largely a music one with a phased-out programming expected to go full throttle by the end of the year. NUST communication and marketing director Mr Thabani Mpofu described the development as a milestone that would help both the students and the community.
"We are now on air and we are currently doing phased out programming. We are largely playing music but at the end of the year we expect to be doing full programming. This is a very important development as it gives us a platform to engage with our community in terms of research output and other programmes. It is also a platform that gives a voice to our students," said Mr Mpofu.
 He said as an institution, their focus was to promote entrepreneurial curriculum, hence the station would impact students with those skills. Mr Mpofu said the station would not only benefit journalism students but would give students from other departments who have a passion in broadcasting an opportunity to partake as well. NUST Media and broadcasting expert Mr Makhosi Sibanda said the station was a source of information for students and the community.
"This campus radio station is going to be a source of information for the students and the greater community around NUST. The institution is a community of interest so even communities around it will benefit from the programming. It is also going to be a forum for expression and collective bargaining in terms of solving various societal needs," said Mr Sibanda
 Five other higher learning institutions were granted licences by the Broadcasting Authority of Zimbabwe (BAZ) namely Lupane State University (LSU), Midlands State University (MSU), University of Zimbabwe (UZ), the Harare Polytechnic and the Great Zimbabwe University (GZU) as part of the Second Republic's efforts of opening up airwaves. – @nyeve14