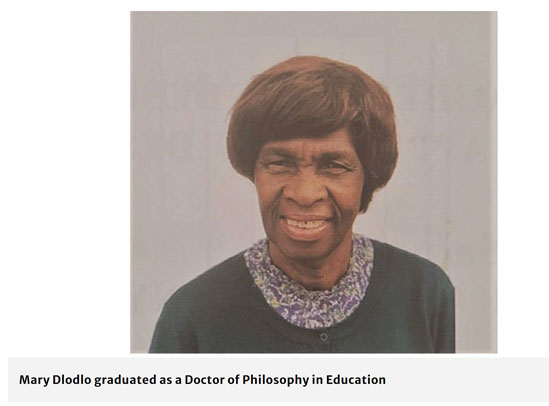 WHEN Mary Dlodlo's name was called out, the auditorium reverberated and was engulfed by cheers, whistles and ululations. Mary Dlodlo It was a celebration! Emerging from the right side of the stage, Mary, clad in a red and gold gown and with a black graduation cap on her right hand, confidently strutted onto the stage, showing off her short white hair as she walked up to be capped by President Mnangagwa.
Mary Dlodlo graduated as a Doctor of Philosophy in Education She graduated as a Doctor of Philosophy in Education under the Faculty of Science and Technology Education at the 28th National University of Science and Technology Graduation ceremony in Bulawayo yesterday. The setting was the NUST Ceremonial Hall and President Mnangagwa, who is also the University's Chancellor, was flanked by NUST Vice-Chancellor Professor Mqhele Dlodlo and Minister of Higher and Tertiary Education, Innovation, Science and Technology Professor Amon Murwira. Bulawayo Minister, Judith Ncube and Finance and Economic Development Minister, Professor Mthuli Ncube were also in attendance. The Dean of the Faculty, Professor Lwazi Sibanda recited the title of Mary's Thesis, Professional Development of Student Teachers in Design Technology Education: Implications for Primary School Teacher Education.
 Mary took up her position in front of her dean. She could not hold back her smile, she could not hold back her excitement, it seemed that it was a day she had longed for and would forever cherish. As Mary approached the cushion in front of the President, she was willed on by wild cheers from the auditorium, the Chancellor and Professor Dlodlo and Professor Murwira stood as the dignitaries readied to accept her. President Mnangagwa shook her hand and the two exchanged pleasantries, and the noise in the auditorium went up a notch. Thereafter she knelt, and the President touched her head with the ceremonial cap. When she rose, another round of cheers ushered her off the stage as she wore her cap, emerging as Dr Dlodlo. This was part of the scenes when President Mnangagwa capped a total of 3 087 graduands. This was the first full-on graduation ceremony after Covid-19 restrictions, which saw thousands of families gather outside the NUST Ceremonial Hall to witness children, siblings and spouses graduate with various qualifications.
 By 8.30AM, NUST was a hive of activity as thousands started thronging the venue. Under a tent, there was a sitting area, with large screen televisions for loved ones to watch proceedings happening in the Ceremonial Hall.
 The sun was blazing, and the searing heat was felt inside the hall, where excited graduands waited patiently for the ceremony to start. President Mnangagwa led a procession into the auditorium to kick-start the ceremony, which was packed with most of the 3 087 graduating students of which 1 410 (46 percent) were female while 1 677 (54 percent) were male. Among the graduands were 42 foreign students from Botswana, Zambia, South Sudan, Kingdom of Eswatini and the Democratic Republic of Congo.
 Zimpapers had seven employees graduating during the ceremony, under the Faculty of Communication and Information Science — Sunday News Assistant Editor Mkhululi Sibanda, Chronicle Online News Editor Temba Dube and Chronicle Senior Reporter Nqobile Tshili graduated with a Master of Science Degree in Journalism and Media Studies. Sibanda won the NUST Book Prize Under the same faculty, Chronicle Sports Editor Mehluli Sibanda, Sunday News Senior Reporter Robin Nyembezi Muchetu, B-Metro Senior Reporter Gibson Mhaka and BMetro Senior Sports Reporter Fungai Enos Muderere graduated with a Master of Science Degree in Strategic Communication. Gibson won the NUST Book Prize, ZITF Prize for the Best Graduating Postgraduate Student in the Programme. Yvonne Senzelweyinkosi Ncube Former Chronicle interns also made a mark during the ceremony as Yvonne Senzelweyinkosi Ncube won the Alpha Media Trophy for the Best Graduating News Writer, Mbulelo Senzo Wudo Mpofu won the College Press Prize for the Best Graduating Male Student in the Department and the Publishing Department Floating Shield for the Best Research Project
The Emmerson Dambudzo Mnangagwa Chancellor's Award Recipients this year were Lister Siphathisiwe Tshuma, who graduated with a Bachelor of Technology Education Honours in Electrical and Electronic Engineering and Thabiso Ncube who graduated with a Bachelor of Science Honours Degree in Applied Biology and Biochemistry. The two walked away US$1 000 richer.
Vice Chancellor Professor Dlodlo said NUST is making great strides in implementing heritage-based Education 5.0 and contributing to National Development Strategy 1 (NDS1) that feeds into Vision 2030. He said due to the university's efforts in innovation, it attracted external funding to the tune of US$117 354,21 for various research and innovation projects that the institution is embarking on. "Geothermal energy research that is exploring the potential of harnessing geothermal energy from Zimbabwe's hot springs. The project comes at a time when the country is exploring alternate energy sources under the National Development Strategy 1," said Professor Dlodlo. "Through the Faculty of Engineering and in collaboration with the Institute for Suitable Technologies, we are involved in a three-and-a-half-year Southern African Solar Thermal Training and Demonstration Initiative on capacity building and demonstration of solar thermal systems in the Sadc region.
 "In partnership with the International Livestock Research Institute, your university has embarked on a project aimed at adapting and scaling up of improved livestock production systems in nine districts of Beitbridge, Gwanda, Binga, Hwange, Nkayi, Gokwe North, Chiredzi, Bindura and Mutoko," said Professor Dlodlo.
He said all these achievements and others would not have been possible without the continued support of President Mnangagwa's administration. Professor Dlodlo said NUST has increased the enrolment of medical students from 25 to 60 and added a new faculty of Environmental Science and Environmental Health to address skills shortages in the sectors. After the ceremony the heavens opened up.– @bonganinkunzi