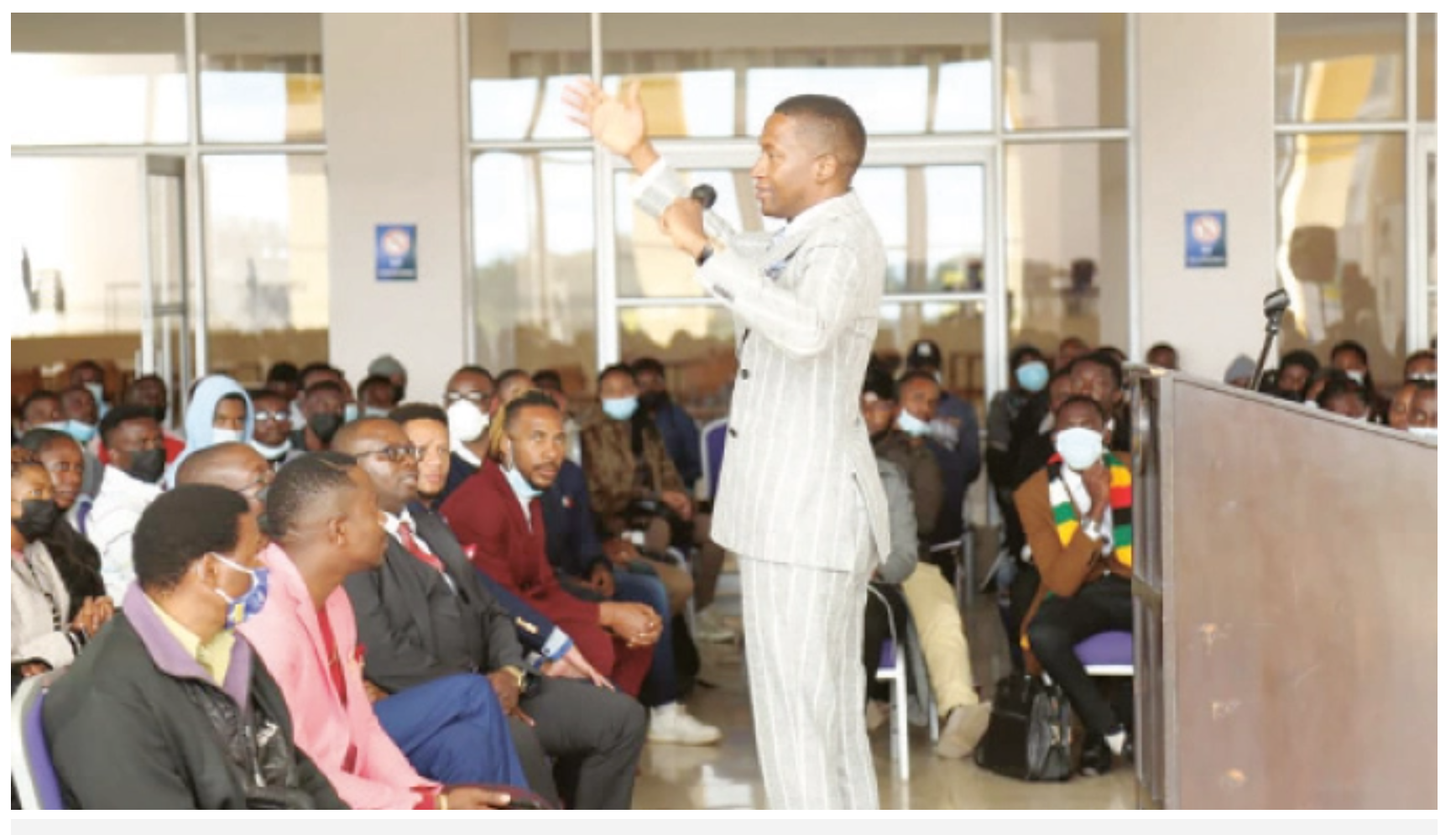 PRESIDENTIAL envoy and Zimbabwe's ambassador at-large to the Americans and Europe, Prophet Eubert Angel has encouraged students to choose entrepreneurship over employment.
The ambassador said this during a seminar at the National University of Science and Technology (Nust) on Tuesday afternoon. "I was encouraged by the President to come here today and spread the spirit of entrepreneurship. What I always want to encourage young people is that you can start any entrepreneurial initiative before you even graduate. Being at a tertiary institution gives you an advantage to start using your skills and become a millionaire today," he said
"Most students want to graduate so that they can be employed, that's dangerous. Once you are employed and given a salary you become an employee and one thing about employees is that they never get rich. My mentor once told me that once you start receiving a salary you start developing an employee mentality and you will never become rich from a salary. Bosses are clever people, they pay you to do the things that they cannot do, and you work every day to put money in their pockets."
He applauded the Second Republic's Education 5.0 initiative which requires universities to launch outcomes-focused national development activities to ensure a competitive, modern and industrialised Zimbabwe.
"Take for instance companies like Google and Facebook, these are multi-million-dollar companies which were started whilst their owners were still in school. These people never waited to be employed that is why the President of Zimbabwe has introduced Education 5.0 which promotes innovation and industrialisation apart from teaching and research. In this digital age it is easy for people to make money," Ambassador Angel said.
"I can give an example of my 17-year-old son who's making at least US$7 000 a month and all he did was content creation. It is simple, you do not need to have a million dollars to start something, it only takes the phone you have right now and creating a YouTube channel and find your subject of interest and start talking about it. YouTube or any social media platform every day. You start from getting little and with time you continue rising and before you know it, you will be earning as much as US$7 000 yourself. It is possible."
Ambassador Angel said the growth of the economy relies on entrepreneurs. "I often hear people saying I want to start something but the economy is not accommodative. In this digital age, one can never be bound by the economy because you are online you can never be suppressed by the economy of any country. Actually, the economy is enhanced by entrepreneurs. If everyone is waiting to receive a salary then the economy will never succeed, so we are the cause of the economy growing or depreciating," he said.
"While others were losing jobs as part of the effects of the Covid-19 pandemic others were seeing opportunities of making money and I tell you that someone out there made millions during the Covid-19 pandemic. Every problem there is in the economy means there is an opportunity for someone to make money. What we are usually told is that when you want to live better lives you need to vote someone in or someone out of power but what they never tell you is that you are the one responsible for your own livelihood."
"I hope that when you all leave this place today, you will use the skills that you have gained so far to start something and l assure you that you can reach great level of wealth.
Ambassador Angel promised to pay tuition fees for at least 40 students who were present at the seminar. The students will be randomly selected by the Nust administration using the attendance register.
Nust Vice Chancellor Professor Mqhele Dlodlo thanked Ambassador Angel for the seminar.
"It is such a coincidence that I always sing the same gospel during orientation gatherings with new intakes. I always tell them that if you leave the institution and you are seeking
employment you need to come back and re-register so that we teach you again. When you leave this institution, you should be equipped with knowledge to start your own projects. Thank you, Ambassador Angel, for sharing this information with us today and I hope many have heard," he said. – Yvonne Ncube, Chronicle Reporter