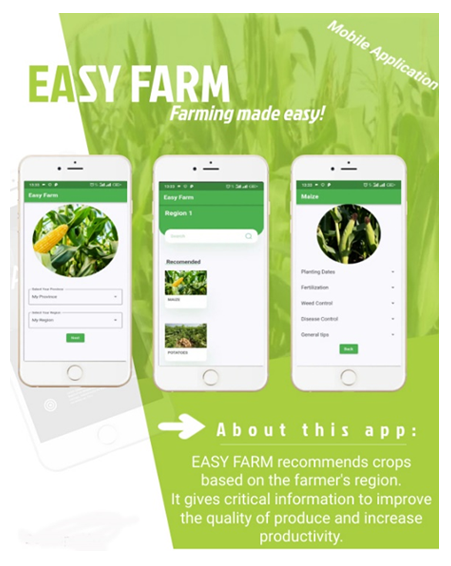 THE National University of Science and Technology (NUST) students and academics are coming up with innovative technological solutions to national problems, a testimony that they have adapted to the demands of the Heritage-based Education 5.0.
Advances in automation, the digitisation of information, unprecedented access to data and the democratisation of knowledge are transforming every sector of our economy. The scope, scale, and ubiquity of these disruptions is truly unprecedented.
NUST is, therefore, participating at the ZITF 2022, which runs under the theme "Rethink, Reimagine, Reinvent Value Chains for Economic Development" to showcase innovations that add value to different sectors of the economy including agriculture, mining, manufacturing, environment and climate change.
Exhibiting under the theme "Rethink, Reimagine and Reinvent Education 5.0 for Economic Development", some of the projects on display at the NUST stand in Hall 3 are two mobile applications – PaMarket App and Easy Farm App, and bioplastic manufactured from potato peels.
"PaMarket is a global marketplace platform that allows farmers and vendors to advertise and sell their products in the comfort of their homes. The mobile application was motivated by the experiences of Covid-19 lockdown restrictions that restricted market places for farmers and vendors for selling their products," said Paidamoyo Chikumbu a Computer Science student and team leader of the innovators.
"The App encourages farmers and vendors to adapt to technological advancement, and use digital platforms to advertise and sell their produce. PaMarket provides an online market for agricultural products both internationally and locally at very affordable prices," she noted.
The innovation follows the call by The President, His Excellency Cde Emmerson Mnangagwa, for players in the agriculture sector to employ modern technologies to help local products to enter the global value chain.
PaMarket is a global agricultural platform that connects farmers and businesses all over the world.
Another mobile application that is set to contribute to improving the quality and quantity of local farm produce through easy access to critical farming knowledge and skills is Easy Farm App.
"Different agricultural regions require different crops and specific farming techniques to boost productivity. Easy Farm Mobile App brings information on types of crops, fertilisers, diseases, among other services to the click of farmers' fingers," said Mthandazo Ncube a Computer Science student and team leader of the innovators.
"The Heritage-based Education 5.0 challenges us to Rethink and Reimagine farming. Easy Farm mobile application, using data from experts and reputable agricultural organisations, recommends crops to grow based on one's location and region. It provides guidance on how to farm and take care of crops," he explained.
Through the National Development Strategy 1 (NDS 1), the Government is working on measures to stimulate agricultural production to ensure 80 percent of industry's raw material needs are met from local inputs. NDS 1 aims to end hunger and poverty as identified in SDG 2 and transform people's lives as pronounced in Zimbabwe's Vision 2030.
To achieve this target, there is a need to improve agricultural productivity and Easy Farm App is the game changer.
The Agric Apps come at a time when the Government is encouraging and assisting the youth, the tech-savvy, to enter into farming.
Nontuthuzelo Ncube, a Tutorial Assistant in the Chemical Engineering Department has come up with biodegradable plastic from potato peels.
"Morden petroleum-based plastics are a threat to livestock, people and the environment. They take a very long time to decompose and stay long in landfills and dumpsites thereby increasing volumes of waste as they do not degrade. Burning of these plastics may also produce toxic chemicals such as dioxins.
"Bioplastics are produced from renewable resources instead and this would result in the reduction of greenhouse gases emissions through the reduced carbon footprint. Bioplastics production will eliminate the environmental concerns like waste management, disposal at sea and emissions," she said.
Her innovation fits in well in Zimbabwe's Vision for the economy to go green by 2030, with the country's economic blueprint, NDS 1 putting in place the necessary pillars for environmentally-friendly products and production of an eco-friendly bioplastic will help achieve this target.
These innovations among others are a demonstration that NUST students and academics have embraced the role of Heritage-based Education 5.0 in driving innovation and catalysing national economic development. In 2019 the University launched its Innovation Hub, a centre for innovation, entrepreneurship and business development. The hub is open to students, academics, independent researchers and innovators as well as other stakeholders.
Entrepreneurship has become a major component of the academic experience of students at NUST. Riding on the University motto of "Think in Other Terms", NUST is creating a new culture where innovative thinking is inspired and nurtured.
NUST students are oriented to make a difference in society through start-ups, social entrepreneurship, and other business ventures of their own creation. Students are prepared for a rapidly changing job market and are taught to be architects of the world in which we live.