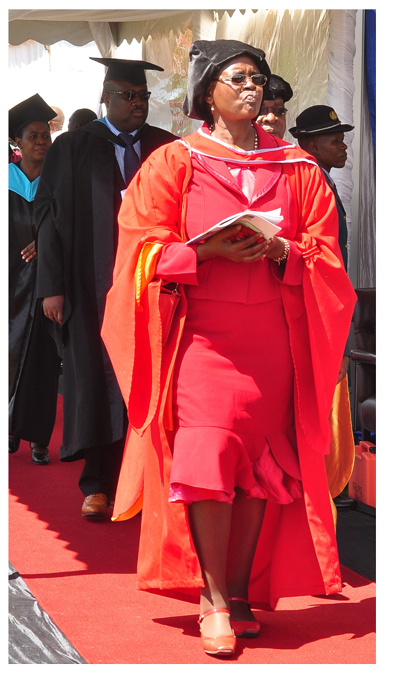 SHE ate Maths, drank Maths, dreamt Maths and slept Maths. She had a soft heart for the education of the underprivileged and orphaned children especially the girl-child. She was a mentor who was passionate about seeing women and girls succeed in science, technology, engineering and mathematics (STEM).
Professor Senelani Dorothy Hove-Musekwa lived mathematics.
Sadly, five days after the world celebrated the 7th International Day of Women and Girls in Science, Prof Hove-Musekwa, took her last breath.
She was 63.
A researcher par excellence in Mathematical Modelling both in Zimbabwe and abroad, modelling diseases like TB and HIV, Prof Hove-Musekwa, was a Professor of Mathematics in the Department of Applied Science.
"The NUST Community is shocked and left bereft. She always put others first and was altruistically committed to serving NUST. She put NUST higher on the global scholarly maps. Her absence will be felt far and wide," said the Vice-Chancellor, Prof Mqhele Dlodlo when he heard the sad news.
He added that Prof Hove-Musekwa will be remembered for pioneering the NUST Schools Enrichment Programme (NUSTSEP) in 2010 to assist underprivileged and orphaned pupils in studying mathematics. She later transformed it into NUST Schools Enrichment Centre (NUSTSEC) to cater for those pupils who could afford to pay for the services.
"Through NUSTSEP and NUSTSEC, Prof Hove-Musekwa worked hard to support underprivileged and orphaned secondary school pupils to pass mathematics. She contributed immensely to the improved pass rate in mathematics and increased enrolment of children from the Matabeleland region in the STEM programmes at NUST," said Prof Dlodlo.
The Executive Dean of the Faculty of Applied Science, Prof Philimon Nyamugure, said Prof Hove-Musekwa will be remembered for breaking the glass ceilings in academia.
"She was the first female Professor of Mathematics in Zimbabwe. A hard working researcher and best teacher of mathematics," said Prof Nyamugure.
Her peer, a Professor in Physics, Prof Dumisani Hlatywayo had no words to describe the loss of Prof Hove-Musekwa.
"What a sad moment, what a sorrowful time before us. A dark cloud hangs yet again over NUST," mourned Prof Hlatywayo. 
He described Prof Hove-Musekwa as a true NUST cadre who cared for the welfare of students.
"When faced with financially struggling students, Sisi Dorah would rally her colleagues to donate from their salaries to assist the students to pay their fees. 
"Sisi Dorah, as I was accustomed to calling her, was a lecturer, teacher and researcher par excellence. She was both dedicated and committed to whatever she did. Administratively, she stood the test as Acting Dean of Applied Science over a period of two and a half years at NUST – a responsibility she held and executed with dedication and passion," said Prof Hlatywayo.
He added that Prof Hove-Musekwa's dream was to see the Department of Applied Mathematics growing into a School of Mathematics.
Prof Hlatywayo said Prof Hove-Musekwa was a pleasure to work with as she never missed a duty, meeting or responsibility without a valid reason.
"Even during the days that she was struggling with her health, she would struggle to avail herself to her duties. NUST has lost a dedicated Cadre," he said.
The Acting Director for Research and Internationalisation Office, Dr Thembekile Ncube, described Prof Hove-Musekwa as a mentor who was passionate about seeing girls and women succeed in STEM.
"She was a mentor who was passionate about seeing girls and women succeed in STEM. Her departure is a big loss to women in science at NUST and beyond," said Dr Ncube who in 2013, formed NUST Academic Women Researchers where Prof Hove-Musekwa was a very active member.
"We all looked up to her for inspiration, motivation, direction and guidance in academic and social issues as women academia," said Dr Ncube.
The Chaplain, Pastor Tomson Dube, who three weeks ago visited Prof Hove-Musekwa on behalf of the NUST Community, said the University had hope that she will recover and return to work.
"We had hope that Prof Hove-Musekwa will recover. Truly, we are reminded by King David in the book of Psalms when he says, 'So teach us to number our days, that we may apply our hearts unto wisdom (Psalm 90:12). May the Lord help us to understand this sad occurrence! May he give to the family bigger hearts to contain this and wisdom to accept the unchangeable. We the NUST Community is shocked and left bereft," said Pastor Dube.
Her departure has been felt far and wide.
Ba Isago University in Botswana, an affiliate of NUST, said the world has lost an anchor and towering academic.
"Noting from her academic profile, not only her family, but also NUST, her country and the region, have lost an anchor and towering academic giant who contributed so immensely to the realms of Science and Mathematics," said the Managing Director of Ba Isago University, Odirile Gabasiene in a condolence letter to NUST Vice-Chancellor.
Prof Hove-Musekwa started her dance with mathematics as a teacher at Townsend High School in Bulawayo from 1982 to 1988.
In 1989 she joined Hillside Teacher's College as a Mathematics lecturer. After lecturing for six years, Prof Hove-Musekwa, was recruited by the University of Zimbabwe as a Staff Development Fellow and then served as a mathematics lecturer from 2001 to 2002 at UZ.
She joined NUST on the 2nd of January in 2003 as a lecturer and was later promoted to Senior Lecturer.
In January 2012 she was promoted to Associate Professor and attained her full Professorship in April 2018.
She held various positions of responsibility within the University including Acting Director Institutional Research and Quality Assurance from April to June 2020; Acting Dean of the Faculty of Applied Science from March 2017 to May 2018; and Chairperson of Applied Mathematics Department from July 2007 to October 2008.
She was a member of various committees and boards until the time of her death including the Higher Degrees Committee (from Aug 2005); Journal Editorial Board (from 2011); and MSc Mathematical Modelling Coordinator (from Jan 2005).
She also sat in the Publications Committee (Jan 2005 to 2009); Senate (Jul 2007 to Oct 2008; 2012 to time of her death).
Prof Hove-Musekwa was the secretary of African Women Mathematics Association (AWMA) since 2013 and an active member and Board Chairperson of the ZIMSTAT Board.
She was Southern Africa Mathematical Sciences Association Treasurer from 2002 to 2006.
Prof Hove-Musekwa was a well published professor with more than 40 Journal Publications, several Book Chapters and presented papers at more than 48 International Conferences and Workshops.
During her career, she received several honours and awards including the African Mathematics Millennium Science Initiative Research Fellowship in 2006; Visiting research fellowship by African Institute for Mathematical Sciences from 2009 to 2010 at the Stellenbosch University.
In 2013, the Research Council of Zimbabwe awarded her a prize for Outstanding Research in Promoting and Maintaining Good Health through her research project on "Hospitalisation and Community home-based care for people living with HIV/AIDS"; and in 2013 she was recognised by the Ministry of Information Communication Technology for outstanding research by a female researcher.
Prof Hove-Musekwa was a holder of a doctorate in Mathematical Epidemiology (UZ, 2005), an MSc in Mathematical Modelling (UZ, 1997), Bachelor of Arts Special Honours in Mathematics (UZ, 1993), Graduate Certificate in Education (UZ, 1982) and Bachelor of Arts General majoring in Mathematics (UZ, 1981).