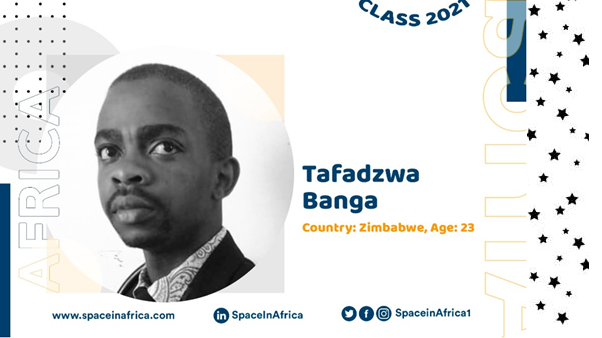 NATIONAL University of Science and Technology (NUST) fifth and final year Industrial and Manufacturing Engineering student, Tafadzwa Banga (23), has lifted the country's flag high after being selected one of the top 10 young innovators by Space in Africa.
The leading media, analytics, and consulting company, Space in Africa focuses on the African space and satellite industry.
Banga, the only Zimbabwean, is part of the African Space Industry Top 10 under 30 – Class of 2021 together with other researchers and innovators from other African countries namely Algeria, Nigeria, Egypt (two), Mauritius, Ethiopia (two), Angola and Sierra Leone.
"In 2019, we started the Top 10 under 30 series to spotlight the profiles of the top 10 innovators, engineers, researchers, writers, and contributors to the Africa space industry," reads the African Space Industry Report of 2021.  
"This year, having gone through a thorough selection process, we are once again presenting Africa's top 10 under 30 in the Africa space industry. These young people continue to display outstanding courage and contributions to the industry, reminding us at all times that Africa is ready to take a place in the global space market."
Founder of the Young Inventors organisation, Banga in 2018 led the Zimbabwean team represented by students from Young Inventors to win a regional hackathon competition that the University of Oxford and NEPAD SANBIO organised in South Africa.
He has been an active member of the Students for the Exploration and Development of Space since 2018, and has served as the national chairperson and the president of the SEDS NUST Chapter.
The youthful innovator is also the Space Generation Advisory Council (SGAC) National Point of Contact (NPoC) for Zimbabwe, having joined SGAC in 2019 with his passion for space having made him lead a group of engineering students to SEDS Zimbabwe on the 10th of October 2020.  
Banga's team was able to launch a student-designed electronic payload in near space using a high-altitude balloon, the first-ever space-related project for Zimbabwe.
The launch made a significant impact on the awareness of space education and breast cancer.
Moreover, Banga was part of the UN 4th Africa Space Generation Workshop organising team and one of the delegates who attended the workshop in Ghana.
His resilience and dedication earned him a scholarship to participate in the Mmaars in-person analogue astronaut training mission at Maarsbase basecamp in Mojave Desert, California, USA.
As part of the keynote speakers for the Global Space Summit 2021 organised by SDNx Foundation and Helium Learning Labs, Banga joined the global stage.
He is also keen to see the sustainable development of his country and the rest of Africa through the active engagement of youths and young professionals in space exploration and science.
Banga said he was excited about the recognition, which he said he did not expect adding he would continue doing more research in the area of space.
"I am overwhelmed with joy; it is something that I never anticipated, I am really excited. To be part of the top 10 in Africa is huge achievement considering the amount of work being done by other individuals across Africa.
"This should go a long way in motivating other young people in Zimbabwe.
NUST congratulated Banga for the achievement.
"Tafadzwa's achievement is a strong demonstration that NUST students are trained to make an impact in society with creative and innovative skills imparted during their education experience that is consistently rated among the best locally and beyong," said NUST Director for Communication and Marketing, Mr Thabani Mpofu.
"As a University, we are excited to see the fruits of Heritage-Based Education 5.0 whose focus is teaching and learning, research, community engagement, innovation and industrialisation. Well done to Tafadzwa and his lecturers."
Mr Mpofu said NUST was renowned for pioneering industry-based learning in Zimbabwe where students access a range of industry placements and STEM rich work-learning environments that challenge them to live by the University motto of "Think in Other Terms".
"As leaders of human capital development for industrial and socio-economic transformation, our goal is to produce graduates with a strong combination of theoretical and practical experience, as well as good communication and technological skills," he explained.
"We are committed to producing innovative and entrepreneurial graduates whose qualifications and skills are locally and internationally recognised. We urge fellow students to take advantage of the good learning opportunities that the university avails through lectures, internship programmes and student clubs and societies."
He encouraged students to utilise the NUST Innovation Hub to help them turn ideas into innovations and businesses. – Online.