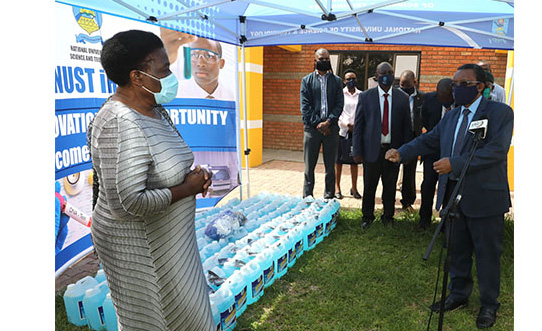 PRESIDENT Mnangagwa has donated 1 000 litres of hand sanitisers and 500 masks to Khami and Bulawayo Prisons to help curb the spread of Covid-19 at the public institutions.
The two prisons recently made headlines for being Covid-19 hotspots in Bulawayo, where more than 25 prison guards and 76 inmates tested positive.
He received the personal protective equipment consignment while officiating the 26th National University of Science and Technology graduation ceremony last month.
Both the sanitisers and the masks were produced at NUST as part of measures to help Zimbabwean communities deal with Covid-19 which has killed 314people so far.
Speaking on behalf of the President Mnangagwa yesterday, Bulawayo Minister for Provincial Affairs and Devolution Judith Ncube expressed gratitude to the President for remembering the inmates and staff in prisons.
She also commended NUST for doing Bulawayo proud as their certified sanitisers have been distributed countrywide to help curb new Covid-19 infections.
"NUST staff members are doing us proud as a province and country as these products have been essential in stopping the spread of Covid both in the public and private sector. We are grateful for the donation and we know that it will go a long way in keeping our inmates and prison staff safe from Covid-19," said Minister Ncube.
"If all of us would be innovative as NUST staff and students and come up with sterling ideas develop this country, vision 2030 will be a possibility. I encourage other academic institutions to emulate what NUST has done and produce quality products that we can even export to other countries and fly our flag high," she added.
NUST  Vice-Chancellor Professor Mqhele Dlodlo said they decided to donate as a way of appreciating the expertise within the university to develop relevant products for use so that people to survive the outbreak of Covid-19.
"These sanitisers have been widely distributed in the southern region and other areas countrywide. The product has passed Standards Association of Zimbabwe tests and we need the international standard organisations to certify it so that we can start exporting," he said. 
"We are also looking into producing disinfectants, some were done in collaboration with other companies although it is still work in progress," said Prof Dlodlo. -Chronicle