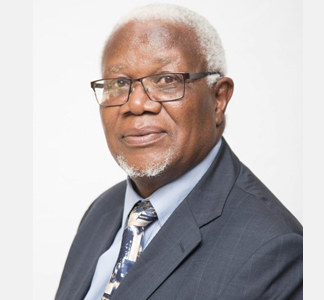 THE NUST community is in shock and poorer after losing yet another academic giant and long-serving dedicated member of the University, Dr Abraham Babs Nyoni.
 "The ever-lovable Dr AB Nyoni, was a longstanding member of the Faculty of Engineering. He and Dr Herbert M Kulube jointly founded the programme in the Department of Fibre and Polymer Materials Engineering at the turn of the last century," recalled the Vice-Chancellor, Prof Mqhele E. Dlodlo.
Dr Nyoni, who joined NUST on the 18th of August 1995, as a lecturer in the then Department of Textile Technology, now Fibre and Polymer Materials Engineering, dedicated 25 years of his life serving the University.
"At the time of his sterling leadership during the birth of the Department, I first worked closely with him in my role as Chairman of the Department of Electronic Engineering and then as the Dean of the Faculty up to 2003. It was a challenging time finding well-wishers and sponsors to donate towards equipping the fledgling Department.
"However, the resilience of the team was astounding. The support from the then Vice-Chancellor, the late Professor Phineas M. Makhurane, was tremendous," said Prof Dlodlo.
Dr Nyoni's long-time colleagues who worked with him for more than 20 years, Prof Londiwe Nkiwane and Prof Siwela described his death as terrifying and shaking.
"It made me realise that death is closer than we think for anyone. I have known Dr Nyoni since 1994 when I went to study at the University of Leeds where he was finishing his Masters," said Prof Nkiwane, the former Chairperson of the Department of Fibre and Polymer Materials Engineering.
"The academic community has lost yet another giant; he was a specialist in his field. He was a guest editor and reviewer on the Zimbabwe Journal of Science and Technology of which I am the editor. He reviewed a number of manuscripts on textile technology," said Prof Siwela the editor of the NUST journal that attracts manuscripts from all over Africa.
Prof Nkiwane said Dr Nyoni will always be remembered as one of the founders of the then Department of Textile Technology now Fibre and Polymer Materials Engineering.
"He developed a lot of courses in Fibrous Materials. Due to his expertise and experience, he was seconded to Gwanda State University (GSU) where he was instrumental in the setting up of the university," she added.
The Chairman of the Department of Fibre and Polymer Materials Engineering, Dr Peeps Gonde, described Dr Nyoni's passing as too sudden and shocking.
"We are too shocked as we lost a Departmental mentor, friend and father. I have no words to sufficiently convey my devastation," said Dr Gonde, who is also the Senior University Proctor.
Dr Gonde said the late Dr Nyoni had a unique personality.
"He loved people, built authentic and honest relationships, which were almost permanent. He will be remembered for his good work, diligence, ethics, honesty and punctuality," added Dr Gonde.
Prof Nkiwane concurred, noting that he was a hard-working professional who was always punctual and disliked late comers.
"He often told his students that they are early for tomorrow if they come late," said Prof Nkiwane.
So dedicated to his work that when he was seconded to Gwanda State University, despite his busy schedule, he continued teaching in the Department and helped with the supervision of students in their final projects.
"He was so dedicated to his work that he would even commit his personal resources in the advancement of the Department when necessary, a rare and commendable attribute," noted Dr Gonde.
The Registrar, Mr Biggy Ngwenya described Dr Nyoni "as a shining example of dedication to his work and his willingness to take on new assignments was unmatched."
From the 1st of February 2013 until the 31st of January 2019, Dr Nyoni was seconded to Gwanda State University as the Acting Dean of Studies where he founded the Faculty of Engineering and the Environment, and the Faculty of Life Sciences.
"His contribution to the birth of Gwanda State University, both on its Council and in management as Acting Dean is there for all to see. His loss will therefore be felt far beyond the confines of his NUST family," noted Prof Dlodlo.
His loss will also be felt by the sporting community, as he was a football legend.
Dr Nyoni was born in a family of footballers with his uncle, Ronnie Maseko once a player-coach for Bulawayo Wanderers. The club's kit was kept at his family home and this inspired him to play for the team.
He joined Bulawayo Wanderers as a 16-year-old and rose through the ranks to play for the first team where he was later appointed vice-captain and earned the nickname "Manyosi".
Dr Nyoni played alongside Boy Masaka, John Moyo, Alby Cox, Victor Dliwayo, Olaya Gurura, Vivian Nkomazana, Moses "Madala Boy" Moyo, Goliath Masuku, Rafias Majibha, Sikhalo Mpala, Mapuleni Mukwayi, John Moyo and Fibion Caleb.
"They had started reviving Bulawayo Wanderers Legends social soccer team. He was very active and full of hope," said his brother, Mr Roy Mlilo.
Dr Nyoni was a rare breed of footballers who never lost focus of his studies.
He pursued further studies in Nigeria where he attained his first degree in textile technology from Kaduna.
He obtained an MSc in Textile Science and Engineering from the University of Leeds.
Dr Nyoni attained his PhD from the same university where his research focused on moisture management in yarns and fabrics for technical applications.
He was a Chartered Member of the Textile Institute.
Dr Nyoni, who had over 27 years' experience in both corporate and academic work on value addition from cotton to clothing, was in February this year appointed board Chairperson of Cotton Company of Zimbabwe (Cottco), which had been without a board since 2016.
He was also a board member of the Association of Cotton Value Adders of Zimbabwe (ACVAZ).
His personal objective was to contribute to the economic empowerment of Africa in building sustainable capacity in academic institutions, commerce and industry through teaching, research, innovation and industrialisation.
He was set to celebrate his 65th birthday on the 25th of December 2020 but was called to rest on the 21st of November 2020.
He is survived by five children, one boy Abraham Junior and four daughters, Pulane, Nomathemba, Zanele, Ntombizodwa and one grandchild.