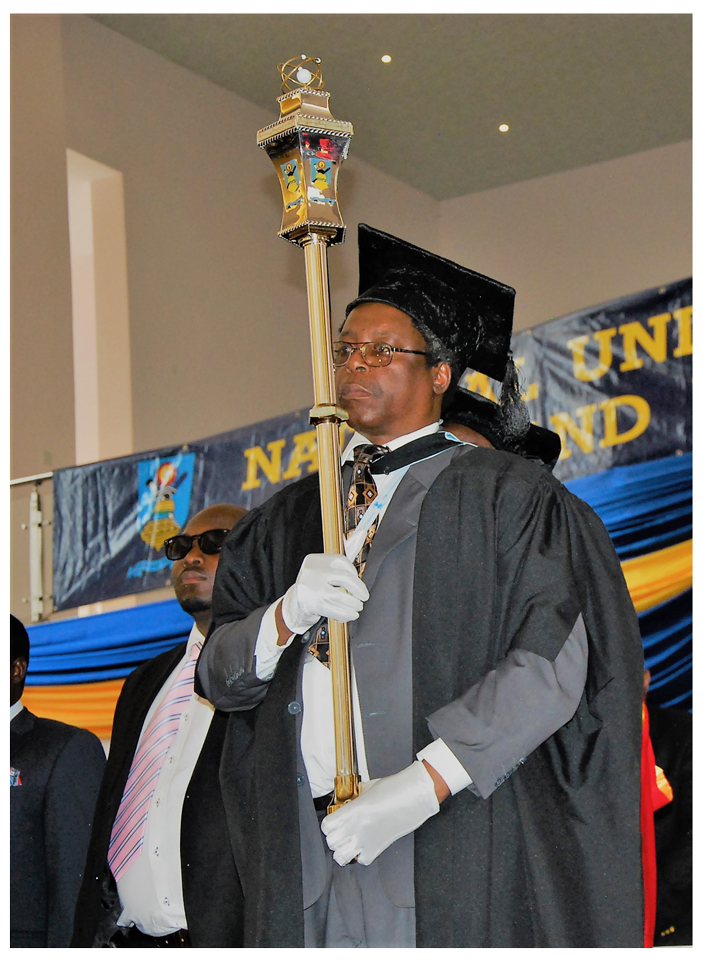 THE Graduation Ceremony Mace and Prof Shadreck Maqethuka Dube have always been synonymous since 2005. When the graduation fanfare began, the Mace and Prof Dube leading the Chancellor's procession were the first to appear before a sea of graduands waiting to be capped. If the Mace did not appear, then the ceremony would not be constituted.  
That was the important role played by Prof Dube as the Senior Proctor, a duty he held among others which included being a lecturer, Professor, researcher and convener of student disciplinary hearings.
The NUST community and the Department of Applied Biology and Biochemistry in particular, are poorer today following the passing on of Prof Dube.
He passed away on Thursday the 17th of September 2020 at the age of 67.
Having joined NUST at its inception in 1991, Prof. Dube was an avid scholar, specialising in Zoology. He was particularly passionate about the subject of water borne parasites of mammals, and had a special interest in traditional African foods.
"His last seminar before the lockdown revealed the danger posed by cattle walking through bogs and picking up water borne parasites. His passion about the subject made the content and the picture stick. I could boldly take the test on it," said the Vice-Chancellor, Prof Mqhele Dlodlo.
"Prof Dube and I along with Prof Nkiwane, Dr Kulube and Dr Nyoni dreamt of starting a silk worm business among other possibilities for NUST some years back. That was when we were putting together the Department of Textile Technology (now Fibre and Polymer Materials Engineering). Sometimes I would stop in his office just to share our dream world together. We were dreaming dreams about a NUST that innovates and produces commercial products and services," said Prof Dlodlo.
He added that Prof Dube left NUST in a good frame of mind, seeing that the University has taken the first steps towards those dreams.
His colleagues and fellow professors spoke highly of Prof Dube.
"He was as a humble and honest man with high integrity. He was a wise counselor and this led him to be Senior Proctor," said Prof Andrew Siwela, a professor in the Department of Applied Biology and Biochemistry who worked with him since April 1994.
"Academically, Prof Dube published over 50 papers in peer reviewed journals. He was a mentor and leader of young lecturers. He made meaningful contributions in several boards and committees that he served both on campus and off campus," added Prof Siwela.
Prof Senelani Hove-Musekwa who worked with Prof. Dube in grooming students to become professional researchers described him as a professional and dedicated academic.
"Prof Dube was a hard-working individual who persisted with his research to become a distinguished researcher and eventually a full Professor. May his soul rest in eternal peace," said Prof Hove-Musekiwa, a professor in the Department of Applied Mathematics.
The former NUST Pro-Vice Chancellor, Prof Samson Sibanda, who worked with Prof Dube for a long time, said he will be remembered as a gentleman, soft spoken, with a very clear sense of direction and very methodological.
"He understood students and student problems, he was fair but firm. As Senior Proctor, he loved his job and worked tirelessly to ensure that students were not unfairly penalised when it came to disciplinary issues," said Prof Sibanda.
As a dedicated academic, NUST found a leader in Prof Dube. He was appointed coordinator in teaching Applied Biology and Biochemistry in 1992, and then appointed Chairperson of that Department for six months in 1994, before being given the top responsibility of heading the Faculty of Applied Science in October 1994 as Dean.
As his term of office ended in December 1996, he returned back to his Chairman position after which he was promoted to Senior Lecturer in January 2005.
The grand appointment of holding the Senior Proctor position was bestowed upon him in September 2005.
Prof Dube held several positions and responsibilities including member of the NUST Council (1992-1996), member of Executive Committee of Council (1992-1996), member of the Library Committee (1992-2009), board member of the Centre for Continuing Education (2004-2014), and Higher Degrees Committee member. The decorated Professor was also Chairperson of the Campus Health and Safety Subcommittee.
In 2010 he was granted Associate Professorship status and Full Professorship in October 2018 before his retirement in December 2018.
To continue tapping from his fountain of knowledge, NUST felt the need to retain him on a post-retirement contract from January 2019, a position he held until the time of his death.
Prof. Dube had in his research bag, over 50 refereed publications, and also supervised over 70 student projects at honours, Masters, MPhil and PhD level. He was also a reviewer of scientific papers for several journals.
According to the African Journal of Food, Agriculture, Nutrition and Development, to which Prof Dube was a peer reviewer, he conducted his duties with commitment and in a timely manner.
He was also a key contributor in 2001 to the Implementation of a Hazard Analysis and Critical control Point (HACCP) system; the SAZ 749 2001 Standard Association of Zimbabwe, "Guidelines for the implementation of Occupational Health and Safety Systems": SAZ 807 for the year 2003 and in 2004 the "Occupational Health and Safety Systems": SAZ 19001.
Born in Gwanda on the 8th of August 1953, Prof Dube attended Buvuma Primary School from 1959-1967 before proceeding to Manama Secondary School (1968-1972).
His hunger for education drove him to Nigeria where he enrolled for a Bachelor of Science Honours in Zoology and a Master of Science in Zoology majoring in Parasitology at the University of Benin from 1976 to 1982.
Prof Dube also studied for Grade CE at the University of Zimbabwe from 1985 to 1986.
He leaves behind wife Dr Cinderella Dube, three children, two boys Rorisang and Tsepo, and a daughter Pearls.