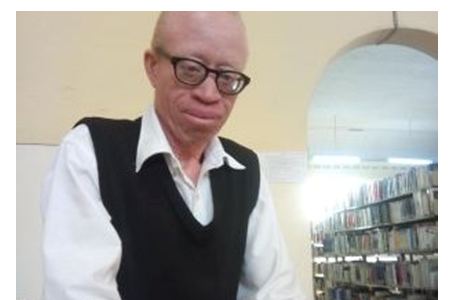 HE was born in a family of 11 with three siblings with albinism; made to drop out of school and considered weak because of albinism. He was mistaken for a white person, and hence an enemy by the guerillas during the liberation war. He lost numerous job opportunities because he had albinism, but fought the odds, defied the stigma and attained a formal profession.
This is what the late Mr Richard Nyathi, the Chief Library Assistant at the NUST Library, went through to be recognised in society, to build a cause for the fight of albinism and to leave an indelible mark in the history of advocacy for disability rights.
Indeed, NUST and the community have lost a gallant fighter for disability rights and advocate for people with albinism on the passing on of Mr Nyathi.
He passed away on the 23rd of August, after a long battle with brain cancer.
Having joined NUST in February 1999 as a Senior Library Assistant, Nyathi showed passion and dedication to his work and the institution until he was appointed Chief Library Assistant in April 2012 in recognition of the professionalism he exhibited in his work ethic.  
His colleagues have expressed Mr Nyathi's death as a loss not only to the NUST Library but the community as a whole.
The NUST Librarian, Ms Kathy Matsika described Mr Nyathi as a special member of the NUST Library team, a hard working individual full of ideas and always with a reassuring smile.
"We have lost a great man, a game changer for the special community out there that looked up to him for leadership. He travelled the length and breadth of Zimbabwe and the region for meetings and workshops until his health was failing. He was a passionate crusader for the community living with disability," said Ms Matsika.
His immediate supervisor, Mrs Cynthia Ncube said Mr Nyathi was always serious about his job and would put his maximum effort on getting things done efficiently and effectively.
"He inspired me so much and he hardly missed a day of work. Whenever he was not at work, one immediately knew there was something very wrong. He was the type of man that would come to work even though he was not feeling well and we would force him to go back home," she said.
A renowned disability activist, Mr Nyathi was an active member of the Southern African Federation of the Disabled (SAFOD), whilst a retired founder member and former chairperson of the Zimbabwe Albino Association.
Mr Nyathi has his name engraved in the hall of fame of the Zimbabwe Disability Movement, a movement which grew under his leadership and through his contribution and advocacy for over twenty years having travelled locally and internationally to represent physically challenged people.
At NUST, he was the major think-tank behind NUST Disability Policy due to his vast experience in the field.
Ms Ethel Kawome, the Sub-librarian for Client Services at the NUST Library highlighted the passion for writing that Mr Nyathi had.
"Mr Nyathi was also an author and he had planned to write his memoirs upon retirement on his experiences in dealing with his own physical challenges and working with others living with physical challenges," she said adding that he published three fiction books and a manuscript was on the way.
Mr Nyathi also leaves a mark in the media world, as he was writing articles for Insight into Disability, a weekly column in Chronicle newspaper to raise awareness on issues of disability.
Mr Nyathi was born on the 24th of March 1961 and is survived by his wife and three children.
Mourners are gathered at house number 61364 Pelandaba, Bulawayo. He will be buried at his rural home in Inyathi on Thursday, the 27th of August 2020.