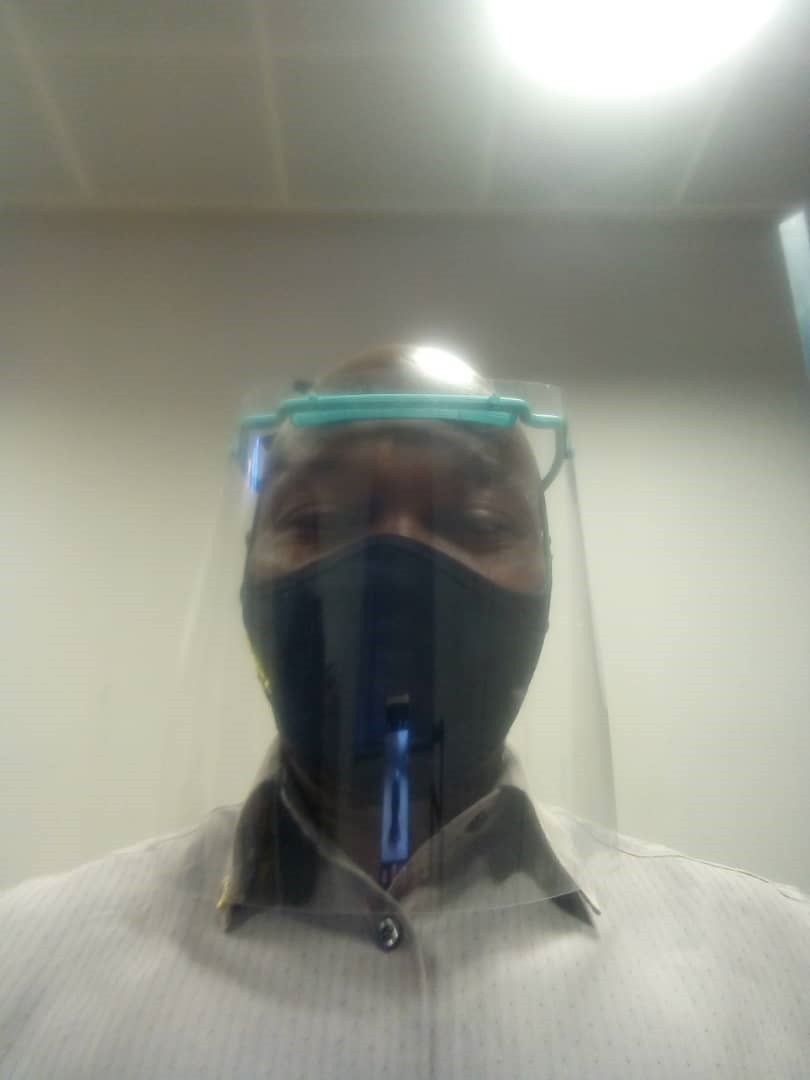 NUST, through the Innovation Hub and in collaboration with international partners, has started manufacturing 3D printed face shields and N95 face masks, as the University continues to support the national effort against the Covid-19 pandemic.
This new initiative builds on previous successful NUST Covid-19 response st rategies including the manufacturing of a Standards Association of Zimbabwe (SAZ) certified hand sanitiser, Nustiser, and production of face masks. NUST is also at the forefront of Polymerase Chain Reaction (PCR) Covid-19 testing services through its Applied Genetic Testing Centre (AGTC).
"3D printing, also known as additive manufacturing, is a manufacturing process where a 3D printer creates three-dimensional objects by depositing molten plastic filament layer by layer in accordance to the object's 3D digital model until a complete object is formed," said Dr Peter Nkala, the Acting Pro-Vice Chancellor for Innovation and Business Development.
He added that the 3D-printed face masks that incorporate an N95-grade HEPA and face shields are highly recommended to the frontline workers and other medical staff who are exposed to aerosol producing procedures.
"The role of the face shield is to prevent potentially infected aerosol micro droplets from entering the eye, thereby infecting exposed personnel. The face masks will provide N95-level filtration and this is achieved through the incorporation of an N95-grade HEPA filter," he explained.
The 3D printing of PPEs follows an 8-week online training course attended by 30 members of staff and 10 students who were joined by participants in universities from 16 other African countries.
"The training, titled 'COVID-19 Response in Africa 3D Printing of Personal Protective Equipment (PPE) and Ventilator Components', was facilitated by Worcester Polytechnic Institute in USA and supported by the World Bank," said Mr Arnold Moyo,  the Manager of Innovation and Business Development.
He added that the training opportunity was brought to NUST by one of its partners, Research||Design||Build, a USA-based afro-centric research institute focused on building community-grassroots-based capacity to address local socio-economic challenges through the use of local resources, albeit informed by lessons from global experiences. 
The course covered the following topics: Infectious Disease, 3D Modeling, 3D Printing, Molding; Sewing, Testing and Sterilizing Face Masks; Ventilator Design & Assembly, Ventilator Assembly cont'd and Introduction to Medical Robotics.
"This course did not only support the University's response strategies to the Covid-19 pandemic, but also enabled relevant departments to build capacity for the introduction of new degree programmes such as the envisaged Bio-Engineering," noted Mr Moyo.
As part of the training, NUST received a donation of a brand new Ender300 3D printing machine and accompanying consumables.
All the products to be manufactured using these donated consumables will be freely distributed to local health institutions.
Mr Nkosilathi Zinti Nkomo and Engineer Blessed Sarema, lecturers from the departments of Materials Engineering and Industrial and Manufacturing Engineering respectively, are leading the NUST teams in the 3D manufacturing of PPEs while also facilitating practical training of other members of staff.