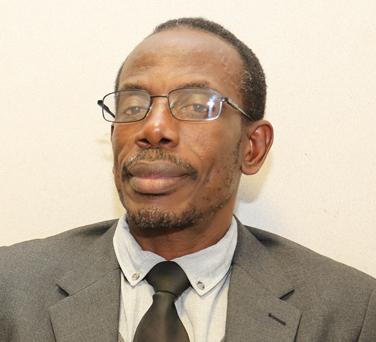 THE National University of Science and Technology (NUST) Council has appointed Mr Biggy Ngwenya (56) as the new Registrar.
His appointment follows the retirement of former Registrar, Mr Fidelis Mhlanga.
Mr Ngwenya, who assumes duty on the 1st of July 2020, becomes the third substantive Registrar after Mr Mhlanga and Mr Michael Kariwo. 
Before the latest appointment, Mr Ngwenya was serving as the Deputy Registrar – Human Resources.
Announcing Mr Ngwenya's appointment during a brief signing ceremony attended by University principal officers and deans, NUST Council Chairman, Eng Alvord Mabhena said a lot was expected from him.
"He should help us recreate a new culture for the institution. A culture built on mutual respect and teamwork to enable all of us to put our shoulders on the wheel and move NUST forward," said Eng Mabhena.
He urged Mr Ngwenya to create a conducive environment that gives everybody space to contribute to the development of the institution.
The NUST Council Chairman appealed to all employees to work hard to improve the performance and rankings of the institution.
"NUST is ranked as number four in Zimbabwe (according to Webometrics Ranking of World Universities) and as Chairman I do not accept this. We must do whatever it takes to improve on the University's rankings. I am appealing to all men and women in this institution to work on that," he said.
The Vice-Chancellor, Prof Mqhele Dlodlo welcomed the new Registrar and noted that he expects to achieve a lot working with him.
"I am very pleased to welcome our new Registrar; we look forward to doing a lot that still needs to be done to get NUST to the right rankings," said Prof Dlodlo.
He encouraged Mr Ngwenya to ride on teamwork and learn to delegate as the Registrar's Office was very busy.
NUSTEDA Secretary General, Mr Blessing Jona said the academic community welcomes the appointment of Mr Ngwenya with warm hands.
"On behalf of all the teaching staff, we want to give you a warm welcome to the new post. We hope to have cordial relations with you," said Mr Jona who was accompanied by NUSTEDA President, Mr Alois Muzvuwe during a brief announcement meeting to representatives of different staff unions.
Mr Jona added that as employees they have always understood the Registrar's Office as dealing with conditions of service including staff development and contact leave among other issues.
"You are our go-to man. We hope that going forward in terms of any other vision you have concerning academic you will be able to share with us. We look forward to working with you," he said.
Representing the non-teaching staff, Mr Readyforward Dube congratulated Mr Ngwenya on his appointment.
"To us as the support staff, he has been our member, a person we would rely on as the link between us and management. We will miss him but we want to assure that we will give him maximum support," he said.
In his acceptance speech, Mr Ngwenya said he was humbled to be appointed NUST Registrar.
"It is a humbling experience to be given such a responsibility. I have been part of the team for the past 10 years and I believe we can work hard to turn things around. I have no doubt that we have a strong team," said Mr Ngwenya.
He noted that the position of a Registrar requires someone who is a listener instead of talker.
 "If we want to be a world class University we must start doing those things that characterise world classiness. We must keep our stakeholders involved, engaged and allow them to contribute as we move forward," he said adding that we must be purposeful and clear of what we want to do.
Mr Ngwenya recognised University staff associations as key in the running of the institution as they bring together all employees.
He said his predecessor Mr Mhlanga retired at a time when the University was beginning to turn a corner in the rebuilding of the institution and pledged to continue from where he left.
Mr Ngwenya brings 25 years of experience in human resources management in Higher Education, private sector and State-owned Enterprises.
He has hands-on experience in human resource strategic planning, resourcing, policies development and legal compliance, training and development, succession planning, discipline and employment relations, as well as salaries and employee benefits.
He holds an MSc in Human Resources Management from Great Zimbabwe University,  Master of Business Administration (NUST), BSc Honours in Sociology (University of Zimbabwe), Diploma in Training Management (IPMZ), Certificate in Education (Hillside Teacher's College), Higher Certificate in Motivation (IPMZ), Higher Certificate in Research Methods (IPMZ), Certificate in Salesmanship (The Salesmanship Institute) and a Certificate of Competency – Pension Fund Trusteeship.
Before the latest appointment, Mr Ngwenya was the Deputy Registrar – Human Resources since January 2020. He also served as Senior Assistant Registrar – Human Resources from May 2010 to February 2019.
He boasts of a mixture of industry and educational experience having worked as Human Resources Manager for Bulawayo Municipal Commercial Undertaking from 2006 to 2009; Human Resources Manager for Turnall Fibre Cement (2003 to 2006); Group Human Resources Manager, Zimbabwe United Passenger Company (2002 to 2003); Personnel Manager, ZUPCO (2000 to 2002); Personnel Manager, Innscor Distribution (1999 to 2000); Deputy Principal, Zimbabwe Distance Education College (1994 to 1995); and a Teacher, Ministry of Education (1989 to 1991).
Mr Ngwenya is married to Ethel and they have two sons, Blessing and Andile and a daughter, Nicola.