Welcome To The
Department of Forest Resources and Wildlife Management
Our staff continues to strive at developing and making use of the expertise of our students for the benefit of society such that each of them acquires an unbeatable interplay of skills.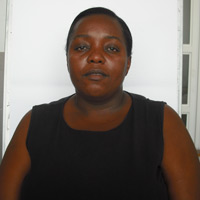 Dr. Angella Chichinye - Chairperson
Environmental education has been conceived as a process of recognising the value and various concepts of the environment. This is aimed at determining the skills and approaches necessary for understanding the relationship between the biophysical and human environments.

Tourism is a rapidly developing and expanding industry around the globe, perhaps the fastest growing industry contributing about 10% to the global economy. It is a major source of foreign exchange, gross domestic product, income and employment. A major sector is eco-tourism, defined as "tourism that depends on the ecology of the visited area". Many countries in Africa including Zimbabwe have natural and wild landscapes, plants, and animals that are intact and worth experiencing by viewing.

Foreign tourists visit a country and bring in hard currency, but they also bring expectations not only of seeing mountains, forests, or wildlife, but also of receiving value for money and this include good service and knowledgeable guiding.

However, tourism has the potential to destroy fragile visited habitats, cultural landscapes and associated biodiversity if not properly managed. It is unfortunate that most managers in the tourism industry, in their opinion have a poor understanding of the ecology of Zimbabwe and Africa in general, and of global conservation issues.

It is against such a background that the Department of Forest Resources and Wildlife Management of the National university of Science and Technology (NUST) is now offering two degree programmes, Bachelor of Science (Hons) in Forest Resources and Wildlife Management as well as Master of Science Degree in Eco-tourism and Biodiversity Conservation.
To produce graduates that are knowledgeable and passionate about forestry and wildlife matters, in Zimbabwe, in Africa and globally. That the research conducted by the department will be contribute meaningfully to the sustainable development of Zimbabwe.
NUST is the perfect location for the study of the forest resources and wildlife management and its interactions with people, conservation and management. We are situated three hours' drive from the vast Kalahari Teak forests, and Zimbabwe's largest National Park and the world's largest Trans-frontier conservation area – the Kavango Zambezi TFCA, KAZA.
Our department has a wide range of expertise in forestry, wildlife ecology, conservation and natural resources management.

Research submitted by the Department of Forest Resources and Wildlife Management has been recognised both locally and at international level. 

The natural Kalahari Teak Forests and Hwange National Park are less than 4 hours drive away and they provide a 'living laboratory' for much of our teaching and research.

Internationally recognized, the Hwange National Park contains a huge diversity of mammals and birds and has sites of Special Scientific Interest (Fossil rivers at Dopi, Kennedy vlei, Tiriga and the Deteema fossil forest, silcified Dadoxylon trunks), including some which are of African significance.

A new Geographical Information Systems Suite has recently been established; allowing students to study spatial relationships between environmental, climatic, biological and social data.

The department co-runs a geo-spatial station under the Monitoring for Environment and Security in Africa (MESA). The MESA wild fire station, which comprises a EUMETCast antenna and work stations for data acquissition and processing, run by the department provides near real time earth observation fire information for use in rangeland, forest, wildlife and agricultural land management.

We have educated excellent graduates who have acquired high positions in both the private and public sectors -  Mduduzi Ndlovu, Tendai Musvuugwa, Gregory Mutumi. Monica Mbiba.